The Good Intentions Blog
---
November 26, 2018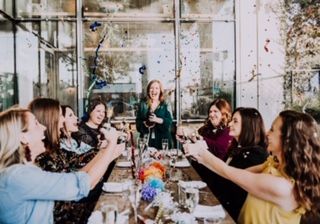 39 years and counting
I traveled to my hometown over Thanksgiving. Along with visiting family, eating our favorite foods and participating in our first turkey trot with 20,000 other people, I also spent a lovely afternoon with some of my dearest friends for a photo shoot celebrating our 40th birthdays this year. Even though we are turning a big milestone this year or next, I'd like to point out the other important milestone numbers from out little group. Two friends I've known for 37 years, two for 25 years, two for 21 years and one for 17 years. We're all connected in different ways. We have different careers and interests now but our friendship has remained. 
In this group of 8 friends, we've all been touched by someone who had cancer. Some are the wives, daughters and granddaughters of cancer survivors, some are cancer survivors themselves. This makes 39 years seem like a gift, one that I don't want to take for granted. I didn't think when I met these friends in preschool, high school, college and graduate school that any of us would be impacted by cancer. That was something that happened to someone else, not anyone in my life. I've watched them bravely take on these challenges in life and that's why at 39 years old, I started Meals OnCol. It's more than a meal delivery service, it's acknowledging that we can do something very specific and helpful for someone battling cancer. Is it going to cure them? No, but it will bring comfort and hope. 
On this Giving Tuesday, please consider donating your age in dollars to Meals OnCol as a tribute to many more years of love and laughter.  Donate 
--Allison
Photo cred- Laura Morsman Photography
---
November 2, 2018
Recently I was at an event to promote Meals OnCol. It was a beautiful afternoon and very close to my house so I naively thought it would be super easy. I started having difficulty as soon as I arrived and realized I should have brought a cart or 3 tall adults to help me haul all my stuff from the parking lot to the field. My children and mother in law were with me and tried their best to help set up the tent but it was extremely hard. We were simply not tall enough to lock the canopy in place and raise the legs. I have put up tailgate tents many times but I've always had several adults to help. Eventually another vendor helped us lock the tent canopy. 
Then it became extremely windy. Fast forward to the next two hours of me struggling to hold down the side of the tent while shielding all the items on my table. I tried to call other people to help me but no one answered or came to my rescue. Eventually a friend showed up with her children, who had the brilliant idea to arrange pumpkins around each tent leg. It worked. 
Breaking down the tent was just as comical as the set up because it was just me and my 9 year old son. We hauled the tent, table, chairs, food samples, 2 coolers, and decorations across the bridge to the parking lot. I was surrounded by people at the event, yet no one seemed to notice my struggle.
I was lamenting the next day to someone and she pointed out that the tent was a metaphor for how I can empathize with cancer survivors. They need the treatment (ie, tent) to survive but sometimes they are barely hanging on. They feel like I did where I was in the middle of a big crowd and no one noticed what was happening. 
This is why I started Meals OnCol to not only address the specific dietary needs of cancer survivors but to provide hope and comfort during this season of their lives. I can see the struggle and I hope these meals help hold down the tent a little better. 
--Allison
---
The Big Idea!
October 16, 2018
Have you ever had a friend or family member diagnosed with cancer? Most of us can answer yes.  Have you then immediately wanted to take that person a casserole? Living in the Southern U.S. my entire life I have witnessed this ritual over and over again. When someone is sick, we want to bring food, usually in the form of a casserole. While it is filled with good intentions and love, it may also be filled with ingredients that are not tolerated very well by people undergoing cancer treatment. Southern hospitality prevents most people from telling friends that we can't eat that casserole filled with good intentions. It then goes to waste or someone else eats it, not the patient. This is the big idea behind Meals OnCol,- to deliver nutritious meals to people undergoing cancer treatment specifically tailored to their dietary needs. Meals OnCol takes the guess work out of the good intentions filled casseroles. A patient can order meals for themselves and friends/family can pre-pay for meals for them. It's a win- win.